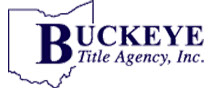 Phone: 937-435-1888 | Fax: 937-434-2033

Our Mission - Buckeye Title Agency
It is our mission, at Buckeye Title Agency, Inc., to provide mortgage and real estate transfers for property owners in a professional, yet personal manner.
We have set our standards to exceed our customers expectations. We have hand picked our staff from the best and brightest the industry has to offer. Our employees have the knowledge to handle every customers concerns or questions and are a group of dedicated professionals.
Buckeye Title's History
We first opened for business in 1990 in Centerville, Ohio as a second mortgage title provider. As the industry changed, we recognized the need to expand our business physiology. By the late 90's we grew in to a full service title agency handling the simplest to the most complex transaction.
Buckeye Title Agency, Inc. • Interstate Executive Center, Building 3
6718 Loop Road • Centerville, Ohio 45459
(P) 937-435-1888 • (F) 937-434-2033 • (E) buckeye@buckeyetitle.com